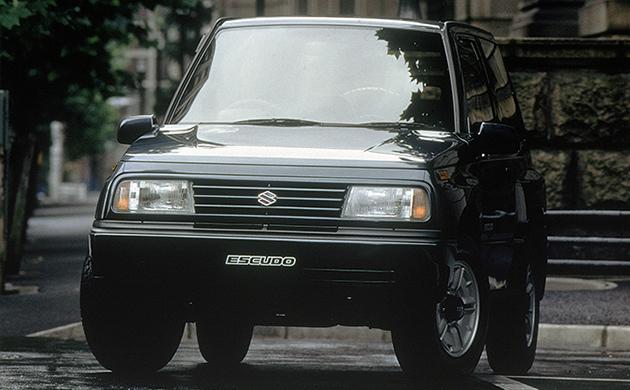 2020, November 19
The Vitara has continued to meet the needs of customers over its 25 years of existence. Suzuki takes another key milestone in defining a new kind of all-terrain vehicle - a radical departure from the classic big all-terrain vehicles and compact sedan-style SUVs of the day.

Vitara first generation


The Vitara debuted in 1988. It also opens a new chapter in Suzuki history in terms of off-road capability. With a weight of no more than 1000 kg, it is lighter than any other off-road model of the time. In addition, its three-door configuration sets a new trend in the 4 × 4 sector.
In 1991, Suzuki extended its Vitara range with a 5-door version with a 1.6-liter engine.

In 1994, Suzuki launched its new "Drive Select 4 × 4" transfer case, which allows drivers to switch between 4 × 2 and 4 × 4 modes while driving and thus quickly adapt to different types of terrain. In 1996, Suzuki adopted a 2.0-liter four-cylinder turbodiesel engine and the following year, the brand added an intercooler. This diesel engine combines excellent fuel efficiency with exceptional performance both on and off-road. At that time, Suzuki benefited from a very extensive Vitara range: long and short wheelbases, 1.6 and 2.0-liter petrol and diesel engines, and manual and automatic transmissions. The first-generation Vitara has passed the 1.1 million units sold mark in nine and a half years.

GRAND VITARA first generation (2nd generation)

In 1998, Suzuki launched the first generation Grand Vitara. This new model is intended as a response to increased customer expectations in terms of safety and environmental performance;

The silhouette, which is distinguished by taut contours and a wedge-shaped profile, inherited from the previous generation, conveys an impression of stability. The sturdy C-pillars of the five-door version suggest its spaciousness.

In 2000, Suzuki further raised the level of enjoyment of its vehicle by offering the driver the possibility of switching the transfer case between two-wheel drive mode and four-wheel drive mode using a simple switch located in the interior. The Grand Vitara allows Suzuki to enter the recreational vehicle market, and becomes the true flagship of the brand eager to stand out from the competition and tap into new markets.

In 2001, Suzuki continued to expand with the launch of the Grand Vitara XL7, which combines a relaxing driving experience, exceptional off-road skills and a spacious cabin capable of accommodating seven occupants. Derived from the 5-door Vitara, it boasts an increased wheelbase and overall length, respectively 320 mm from 485 mm.

Current GRAND VITARA (3rd generation)

The current Grand Vitara debuted in 2005. Its exterior design gives off an impression of sportiness and robustness. Its wide tracks, large diameter wheels and generously bulging fenders convey an impression of strength and stability.

The Grand Vitara symbolizes the combination of three key attributes: rugged off-road performance, stable road performance and refined suspension quality.
The current Grand Vitara remains a worldwide sales champion nine years after it was first released. Cumulative sales of the first and second generation have reached more than 1.7 million units.

New VITARA (new generation)

In October 2014 - more than 25 years after the debut of the Vitara, Suzuki resurrected the Vitara name with a brand new model.
It offers the all-terrain design and performance of an authentic SUV, qualities that every member of the Vitara family should offer.

The new Vitara thus integrates the ALLGRIP system. This system offers four driver-selectable modes, ensuring driveability and peace of mind while promoting fuel economy and limiting the vehicle's impact on the environment.

Since 1988, cumulative sales of the Vitara range in 190 countries and territories have exceeded 2.87 million units. This new model intends to continue the history of the Vitara, which is intended to be a versatile vehicle, ideal both for daily trips and for weekend getaways.
Back to the list