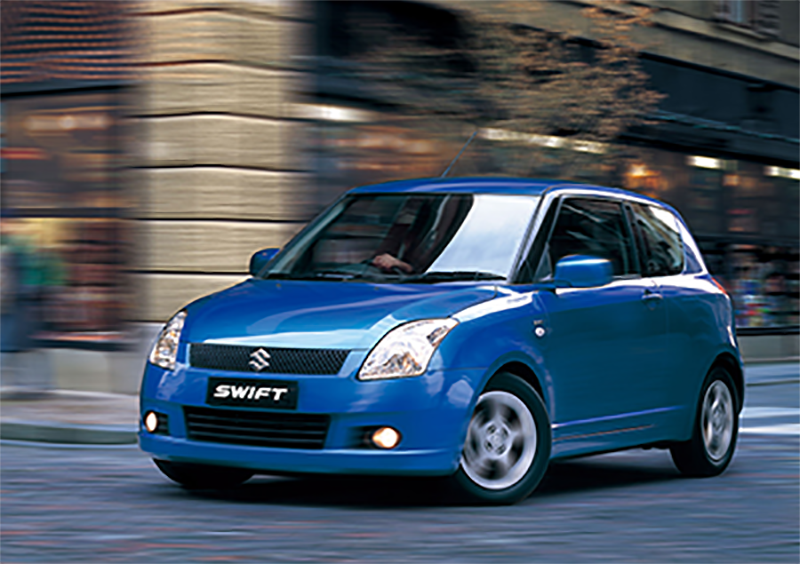 2020, December 10
1st generation
The Suzuki Swift was launched in 2004. Designed in particular for the European market, it is the first Swift to bear this name in all the countries where it is sold. Although Suzuki produced the Swift in 2000 only for its local market, the Japanese brand does not recognize this model as the first generation of Swift. Thus, the 2004 Swift is presented as the first generation.
Available in two or four-wheel drive, sporting a wide range of engines and even a sporty version, it has quickly become an ideal traveling companion. With a young and attractive design, the Swift marked a turning point in Suzuki history.

2nd generation
The second-generation of Suzuki Swift was launched in 2010 and restyled in 2014. In 2010, the second Swift retained the fundamentals of the original model while driving the point of modernity thanks to its always playful character and its numerous practical aspects. This Swift had two petrol engines, one of which was reserved for its sport version, as well as a diesel version.
It was available in 3 or 5 doors with four levels of "Avantage", "Privilege", "Pack" and "So'City" finishes and two special series "Swift Biba" and "Swift In The City".
Renowned for its dynamic handling and ease of driving, it has succeeded in extending the commercial success of the model which has maintained a high level of attractiveness in the used market.

3rd generation
Lunched in 2016 in Japan, the Suzuki Swift made its first appearance at the Geneva Motor Show in March 2017 before being sold in Europe from May 2017.
The 3rd generation Swift appears with a new design and a strong technological update. It offers the latest security features available on the market. With an athletic physique, offering an ever-brighter interior, it sets itself apart with original stylistic features. Now offered only as a five-door body, the Swift continues to cultivate its sporting spirit with the integration of the rear door handles into the pillars.
A Sport version of the Swift was released in 2017 at the Frankfurt Motor Show.
Suzuki has positioned itself for decades not only as the specialist in recreational and all-terrain vehicles, but also in small-sized models that make everyday life easier for motorists.
Back to the list